Babies get grumpy and irritated now and then. Cradling your baby in your arms while comforting him or feeding him can be exhausting on your part. Arms get tired and backs ache.
Sitting on the Graco Parker Glider that moves back and forth can be a great way to have a relaxing time with your baby.
The baby glider is a type of rocking chair that moves back and forth effortlessly. It is made of a soft padded seat with wide padded arm rests and side pockets.
Oftentimes, gliders come with an ottoman to provide rest for your feet. Baby gliders and ottomans come in different styles that can easily match interiors.
Graco gliders have been a nursery essential for most households because they provide a smooth and soothing back and forth motion that makes a baby fall asleep. They are comfortable for parents as well.
The problem is, there are many gliders out there and each promises functions and durability that stay questionable.
Fortunately, there are some product reviews like this that can help you learn more about a specific baby glider. One of the best sellers today is the Graco Parker Glider and Nursing Ottoman.
What are the features that make it stand out among other brands? Is it worth the price? What are the advantages and drawbacks?
Features of the Graco Parker Glider
The Graco Parker Glider and Nursing Ottoman features fully upholstered arms and a seat that provide ultimate comfort and timeless design.
It is made of ultra-plush 100% microfiber cushions that allow you to glide comfortably. All these cushions are spot cleanable to keep it clean and fresh all year long.
It is made of high quality rubber wood (hardwood) and composites. It does not squeak and the back is high enough to rest your head.
Both the glider and ottoman have a classic bow back shape and feature enclosed metal ball bearings to provide smooth gliding motions. It is an ideal choice for late night feedings and grumpy times.
The nursing stool has pull out construction to provide your feet ultimate comfort during exhausting hours. This nursing stool can be folded under the ottoman to serve as a storage space and to add more versatility.
It has a white (wood) and gray (cushions) design that can complement most interiors and decors.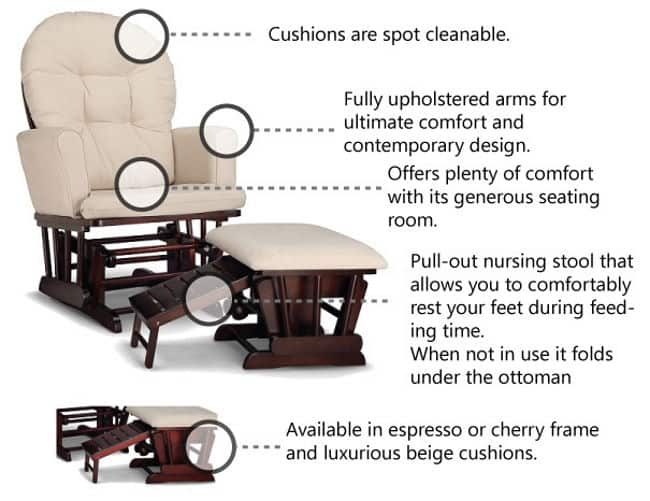 Pros
Pull out nursing stool
Glides smoothly
Made of microfiber ultra-plush cushions
Spot cleanable
Comfortable
Full upholstered arms
Provision for safety storage
Average price
Made of high-quality rubber, wood and composites
Versatile
With classic bow back shape
Easy to assemble
Cons
Summary
Getting a good baby glider can be a real challenge. But what you should keep in mind is the safety and comfort of your baby.
Some other factors to consider are the sturdiness, materials used, ability to clean and cost. Considering all these factors, the Graco Parker Glider and Nursing Ottoman can be a good choice.
With all the features and advantages of the Graco Parker Glider and Nursing Ottoman, you can notice that it has the most features that make up an ultimate comfortable nursing essential.
It is made of fully upholstered arms and a 100% microfiber cushion that is easy to clean (spot cleanable). It is paired with a pull out nursing stool to provide rest for your feet. Plus, it can serve as a storage area when not in use.
Some users complain about the wood material it is made of – they say that rubber wood is weak. Some users do not like the short and narrow arm rests which might not be enough to provide comfort.
But the overall rating of Graco Parker Glider and Nursing Ottoman is great. With an affordable, average price for a nursery glider and ottoman set, this product is worth buying.
Not to mention its 100% micro fiber cushion and fully upholstered arms, the Graco Parker Semi- Upholstered Glider and Nursing Ottoman can provide the ultimate comfort that you and your baby deserve.
It glides smoothly and does not produce squeaky sounds. Your baby can comfortably glide to sleep with this gliders' sleep inducing back and forth motion.
The Graco Parker Glider and Nursing Ottoman could be one of the most cost effective, comfortable, and smooth gliders that you can find in stores today.
Sale
Graco Parker Semi-Upholstered Glider and Nursing Ottoman, Espresso/Beige Cleanable Upholstered Comfort Rocking Nursery Chair with Ottoman
Elevate your nursery's decor & give legs a spot to rest with the Sterling Semi-Upholstered Glider & Nursing Ottoman. Plush arms, back & ottoman top are soft & designed for premium comfort. Pull-out nursing stool folds away for safe storage & versatility
DURABLE & COMFORTABLE: The ottoman & glider both have a smooth gliding motion to work in tandem for a synchronized glide. The ottoman features a pull-out/fold-under nursing stool that allows you to comfortably rest your feet during late night feedings.
EASY CLEAN: The comfortable, polyester upholstery of our glider and ottoman set is spot cleanable, so you can keep your nursery looking fresh, clean and comfortable for you and your baby or infant. It's the ideal rocking chair for any stage of maternity.
COMPLETE BEDROOM SOLUTION: Storkcraft manufactures products for the total infant, kid's, or teen bedroom solution, including changing tables, dressers, glider rocker chairs, mattresses, beds, and bunk beds from brands like Graco, Thomasville, or Broyhill.