The best soothing place for new born babies and infants is the lap of their mother and the loving arms of their father.
The first 6 to 8 months of a baby's life, they need special attention and care so that the little one can grow up enough and learn how to balance his body while sitting alone. But before this he needs his parents to hold him up and soothe him by swinging in their arms.
Sometimes the baby gets irritated and wants a continuous moving cradle for soothing. But human arms need a rest after some time; in this crucial time baby cradle and swings become a lifesaver for parents.
If you are expecting a baby soon or you have a few days or a week old baby, then you must be considering buying a best baby swing for your baby.
The most important and the most difficult decision to make is to choose the top baby swing according to the need of your baby. There are so many different kinds of swings in the market with fascinating features that it becomes difficult to choose the most accurate option.
This detailed buyers guide about the baby swings and cradles will not only help you in increasing your knowledge about the baby swings and their features, but you will be able to get a perfect and best baby swing for your baby after reading this guide. After completing this guide you will feel like an expert of the baby swings.
This guide will give you a brief review of 5 best and most popular baby swings and cradles in the market along with their features. You can find how these cradles and swings are beneficial for you, a step-by-step guide on how to buy the best swing for baby and some great tips on using the baby swing and cradle. The content of the guide is organized in the following order so that it becomes convenient for you to get your required information.
Best Baby Swing Reviews
Graco Glider LX Baby Swing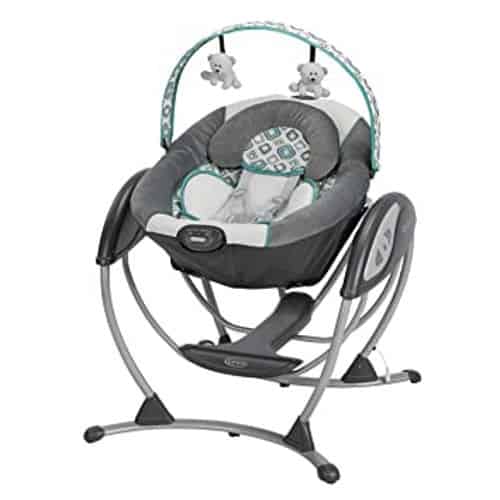 Smooth gliding motion for soothing the baby
Timer mode, which help to save the battery
Ac adapter and batteries both options are available for power
Two adjustable speed setting for vibration to keep baby calm
10 music tunes and 5 nature sound for soothing the baby
1-6 gliding speeds which can be adjusted according to the need
A toy bar above the swing with 2 toys which is adjustable so that baby can easily get access to them
A 5 step seat clip to secure baby from falling down
The Graco Glider LX is one of the top baby swings with the gliding motion and many other excellent features. This innovative gilding swing is smaller in size as compared to the other nursery swings and it occupies 40% less space than others popular swings. Where there is some space issue in the homes Graco Gliding swing can solve the problem. It has soft removable seats for infant support so that the baby can sit and sleep well. The seat covers are machine washable. It has both options of vibration and music to soothe baby which makes it the best swing for baby. A toy bar is also provided above the swing with two hanging toys and the bar is adjustable so that you can hang these toys in the range of your baby's hands.
---
Fisher-Price Cradle 'n Swing – Snugapuppy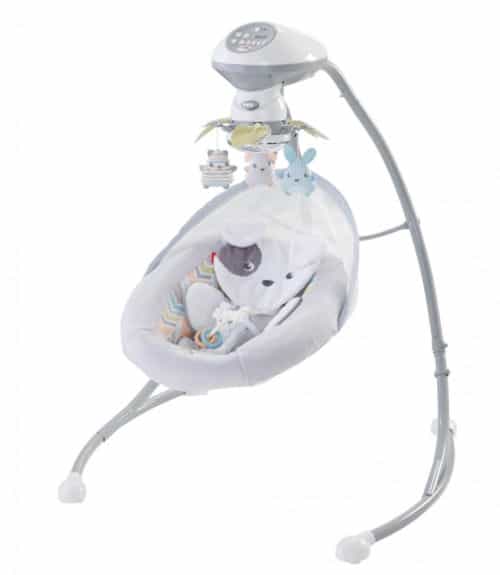 Smart swing technology
1-6 swing speeds to give the comfort of speed to the baby
Two different swinging motions
Two recline and 3 adjustable seat positions: left facing, center, right facing
Soft seat with easy washable seat covers
Motorized mobile mirror and 3 hanging toys with it
A tether toy
Dual power source: 120-volt AC adapter or 4D batteries
With a cute puppy theme Fisher Price introduced this swing with both options of side to side cradle and head to toe traditional swing. It has so many interesting features in it which can be very help full in soothing and entertaining the baby.
The seat is soft and it can be turned on both sides. Yes, you can rotate the seat by simply pressing a button. In the face center the swing moves like a cradle which is side to side and when you turn the seat that is face-left or face-right it moves like swing head to toe.
This swing lacks a vibration feature so if you think your baby can't soothe only with the swinging movement then you can try other options.
But it does have 16 sweet music tunes, including nature sounds and babies love to hear entertaining tunes while swinging.
---
Fisher-Price Papasan Cradle Swing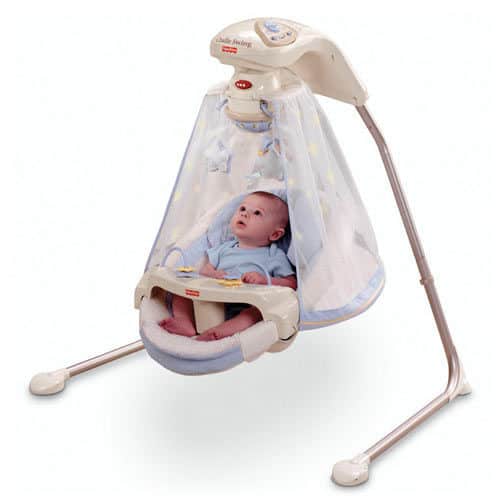 Moving stars help the baby in enhancing visual skills
Six adjustable swing speeds
Choice of two swinging motions
Soft seat pads, removable and machine washable
The Legs of the Swings can fold for storage
16 different tunes for soothing baby
You can make any combination of swing, sound, starlight and mobile
4 D batteries for power along with the option of AC adapter
Like other Fisher Price swings this swing also includes a two way motion swing, which is side to side cradle and head to toe traditional swing. But Fisher Price added some exciting feature in this cradle n swing.
The baby seat is surrounded by a cute little canopy which moves along with the swing. Baby can watch stars floating all around him.
There are 8 soothing and 8 entertaining sounds installed in this top baby swing.
The light system is adjusted in such a way that when it is a nap time and you turn on the light, it's seems to be a starry night and baby feels comfortable in it.
It has also a removable snack tray for the baby, which not only be used for feeding baby but it also secure baby from falling. Vibration mode is also not present in this model.
---
Fisher-Price Zen Collection Cradle Swing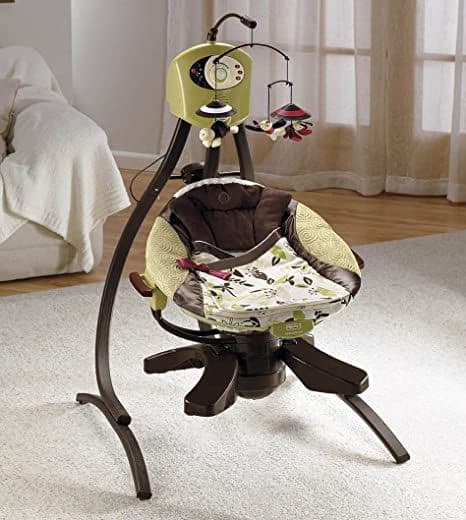 With good quality material it is the part of the exclusive Zen Collection for baby
Removable seat which also rotates 90 degrees
16 sound tracks including 14 music tunes and 2 nature sounds
A unique mobile with 3 beautiful characters which can move freely over the head of the baby and enhance the visual skills
Requires 4 D batteries or AC adapter can be used to save the extra cost of batteries.
Very soft seat pads and good quality seat covers and blanket which are machine washable
The Fisher Price Zen Collection Cradle Swing is an innovative and comfortable swing with a soft and supple seat pad.
The best feature of this top baby swing is that its seat can rotate to 90 degrees which enables the swing to provide two way motions which is side to side cradle and head to toe swinging.
With a three point harness for the security of your baby and two reclining points the swing can move at variable speed which can be adjusted through the control panel located above the swing.
The seat is totally removable and you can take your baby from one place to another while lying on the swing. As well, the seat covers and blanket are removable and machine washable.
Unfortunately, the vibration feature is also not present in this cradle.
---
Fisher-Price Snugabunny Cradle 'N Swing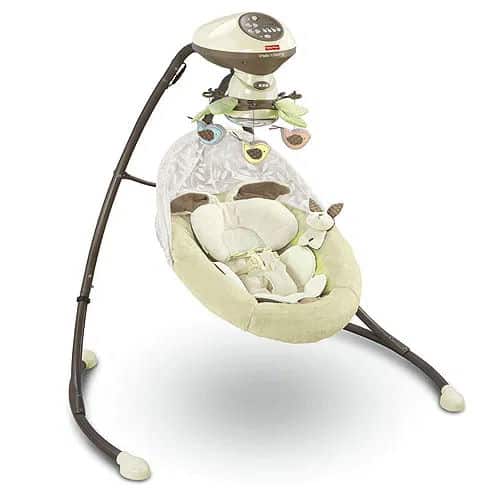 Smart Swing Technology
Two recline positions and 3 adjustable seat positions
Easy to remove and machine washable seat covers
Easy to convert to different swing position by pressing just one button
Easy button panel to control the swing and sounds with the speed of the swing and sound volume.
It also includes an AC adapter to save the cost of batteries, but also run on 4 D batteries.
1-6 swing speeds and 16 sweet tunes, including nature sound to soothe the baby
Another amazing product of Fisher Price is the Fisher Price Snugabunny Cradle 'N swing, which comes with smart swing technology.
This best rated baby swing for newborn and infants as it also comes with two way motion side to side and head to toe.
With six different swing speeds it provides you the option to choose any combination of swings and sound.
Because it offers 16 exciting tunes, including two nature sounds to soothe your baby while sleeping.
It has a mobile mirror with 3 toys hanging with it. The mirror revolves over the head of the baby with the toys.
The swing comes with a fluffy and soft bunny, tethered with the seat which becomes the baby's first friend. It is a portable swing and the legs of the swing can get fold for storage.
---
Benefits of a Customer when they use Baby Swing
The first and the foremost benefit of a best swing for baby is that it helps you in soothing your baby because a newborn or even an infant always wants a gentle rocking and bouncing motion. The cradle and swings calm the baby by its motion soothes him and also helps in settling the stomach of the baby. Sometimes the baby gets irritated; a swing can change the mode with little one by its cradle and swing motion.
Mom has to do a lot of work in her home, but babies, especially newborn never wants to leave the lap of their mother. Swing can not replace the mother's lap, but it soothes the baby and gets the mother's hands free to do other work she need to do. Baby swing provides you a safe place for your baby to play and sleep easily. You can also do any outdoor work by placing the swing in the yard near you.
Short Naps during the day is most important for the babies because it helps them to grow healthy. Swings are the best place for this exercise. Portable swings are considered best baby swings when you want to keep an eye on your baby while he is sleeping in his swing. Rocking swings also help the baby to get asleep.
Swings are the best way to entertain your baby. Best swing for baby is mostly equipped with mobile and toys. Baby while lying on his swing enjoys the movement of toys and like to see themselves in the mirror. Different sounds and tunes make them feel that they are not alone. A swing if placed in an open area, it will become more entertaining for the baby while remaining safe in the swing.
Some baby swings come with snack tray. It is provided in front of the baby seat so that parents can give the baby his meal easily. These trays are removable most of the time. Using snack tray is a good option, it helps reducing the mess of baby food while eating.
The baby swings are usually portable. You can place them anywhere in your home. Or if you do a lot of travelling than this portable swing is the best choosing for you. One of the benefits of the baby swing is that your baby can take a sun bath in winter while lying in it. Sun light is very important for the body of the baby. You can place the swing in any open area where the baby can get the sunlight directly.
As the babies grow, they learn a lot of things which are around them. Swing plays a vital role in the development of your baby. The baby swings have moving toys and mirror which help babies in developing their visual scene. Different tunes and nature sounds help them build their hearing power. As the time passes the baby try to grab the toys it increase the movement and grip of their hands.
The best baby swing is made of high quality material. A strong frame can hold much weight than other plastic frames. You can use the baby swing for a long time from the birth of your baby until your baby start sitting unassisted. The weight limit is about 25 to 30 lbs.
Baby swings come with a dual power supply option. You don't have to bear the extra cost of changing the batteries every time they run out. AC adapter is provided for smooth and continuous operation of the swing without paying extra cost.
Baby swing is not a one time use item. If it is used carefully it becomes your asset for your next baby. Most of the baby swings come with folding or removable legs for easy storage. You can also keep your baby swing in a safe place to use it for your next baby.
---
How to Pick the Best Baby Swing – Step by Step
If you are planning to buy a best rated baby swing for your newborn then you should keep several things in your mind before making any decision. You can search online and the local market for different kinds of swings and choose the best baby swing according to your need, but there are certain steps you should consider before picking up the baby swing.
Seat Padding
Seat padding should be nice and comfortable for the baby. Padding should be thick enough that it provides comfort to the baby while lying in it. Much thicker padding occupies the seat and less space is left for the baby.
Quality
Never compromise on the quality of the product. Every company is using machine washable fabric, but there is always difference of the quality. Always try to buy a swing with good quality seating covers so that they can easily be washed and get back on.
Power Source
There are two types of baby swings available in the market. One is Electrical and other is manual. Manual swings needs mom or dad available all the time for manual swinging. But now most of the baby swings are equipped with a motor for swinging the baby. The best baby swing is electrical we recommend a baby swing powered by batteries and AC adapter also.
Swing Motion
The swing speed should be adjustable so that you can reduce or increase the speed of the swing according to the ease of your baby. A two way motion swing is considered the top baby swing.
Swings types
There are a lot of options available for you. You can choose a swing with respect to the space available in your home because different sizes of swings are available. A full size swing will occupy more space while a portable swing can set in a small place. If you do a lot of travelling, then the portable swing is the best swing for baby.
Frame
The frame is the backbone of the swing. The base should be wide enough to avoid tipping over of the swing. But not so much wider that trip everyone passing by the swing. The frame should be made of metal; plastic frames are not much reliable. And folding frames help you in storage and portability of the swing.
Entertainment
Music and toys are considered as the most important part of a best swing for baby. Make sure that the swing contains some sweet tunes and attractive toys for the entertainment of the baby. Some babies like vibration and feel comfortable and sleep well in vibration mode of the swing. You must know the choice of your baby.
Weight Limit
Must Notice the weight limit recommended by the manufacturer. You should know the weight of your baby. If your baby is healthy and has a good weight, then always pick the swing, which allows a maximum weight limit so that you can use the baby swing until your baby start sitting unassisted.
Safety
The swing should be safe for little one. The safety features you should look in the swing are the wide base of the swing and less height so that it becomes safer for the baby and there is less risk of falling of swing with the movement of the baby. There should be a harness as a restrain for the baby. A five point harness is a good one for this purpose.
---
Tips for using Baby Swing
Before buying any swing always visit the Juvenile Products Manufacturers Association (JPMA) site for online verification of the selected swing model. If the model has certification from JPMA then it means that it conform the safety standard.
Always read the product manual before using the swing it will help you in understanding the features of the swing and how you can use it safely.
Assemble the swing properly and make sure that all parts are properly attached to each other; any kind of fault in assembling will result in tip over.
Supervision of the baby is necessary. Try to keep the swing in that place where you can keep an eye on the baby and you should react quickly in any situation.
Swing with two or more recline position is the best for baby under the age of 4 months. Keeping most reclined position of the swing is best for him so that he cannot bend over.
Keep the safety harness buckled and never leave the baby unattached. If you leave the baby unbuckled, there is a chance that the baby will roll over and fall from the swing. The top baby swings have 3 to 5 attaching point harness.
Many swings come with a blanket, but in winter don't rely on that stuff and keep the swing in the warm room so that the baby can't get cold.
Always check the swing for any unconnected thing present on it that the baby can get in his mouth and which could cause choking. Small parts of the swing and the toys connected with it must be checked properly time to time.
Every swing has a weight limit which differs from swing to swing. Always follow the manufacturer's guide in this matter. At the same age babies can have different weight and height and using the swing above the limit can be dangerous for the baby.
The swing should be set on a flat surface. Any inclined or elevated surface can cause the tip over.
If you have pets in your home, be aware of that fact that these pets like cats or dogs can jump over the swing and become the reason of any unhappy situation.
Swings are best for the nap time, but for a long sleep it is recommended that you must take off the baby from the swing and place him on his bed.
Turn off the swing motion and music when the baby falls asleep in the swing for a nap.
There are no hard and fast rules for how long you can use the swing for your baby. Once your baby is old enough to figure out how to get free from the swing it is the time when you must stop using the swing. Jumping while swinging can cause serious injury.
Most of the baby swings come with two options for power. One is the batteries and other is the AC adapter. You can use the AC adapter to save the extra cost of the batteries. Batteries can be used where power supply is not available.
---
Frequently Asked Question (F.A.Q)
Why I should buy a baby swing?
It is a matter of choice, but a best rated baby swing acts like an extra set of hands to take care of your baby, soothe him and give you a hands free time to do your other tasks.
How a swing helps in soothing a baby?
The best rated baby swing provides you many options for soothing the baby. Swing with two way motion provides cradle side to side motion and head to toe sway. Vibration is another excellent feature which helps in soothing the baby.
How does a swing entertain my baby?
Top Baby swings are equipped with many interesting tools for the entertainment of the baby. White noise is considered a sound which helps baby to sleep. Many brands provide entertaining and nature tunes to entertain the babies. Mobile mirror and toys also attract baby towards them.
Does the swing help in development of baby?
Swing plays an important role in the development of the baby. Sweet sounds help them build their hearing sense, moving objects like mobile toys help babies in developing their visual sense.
What should I care about while buying a baby swing?
Safety first, you should consider the safest swing for your baby. Other important things you should consider are weight limit, portability, seat padding and covers quality, and easy to use control panel.
What is the weight limit of baby swings?
Weight limit varies with the each brand, but the average weight limit for a best rated baby swing is between 23-30 lbs.
How long a baby can be placed in the swing?
There are no hard and fast rules for this, but expert opinion is that you should not use baby swing more than one hour in a day. But it is not the limit you can use it as per your convenience.
Can my baby take a prolong sleep in the swing?
Short naps are fine, but baby swings are not made for prolonged sleep.
Can I use baby swing while traveling?
No, the baby swings are made to place on a flat surface. It can be dangerous to use baby swing while traveling.
What are different types of baby swings?
There are two types of baby swings which are widely available and used by the parents as per their choices. One is full size baby swing and the other is portable baby swings which are also called travel swings.
What is the best brand for baby swing?
The Graco and the Fisher Price are the most popular and reliable brads. They offer a wide range of swings; you can choose one according to your need.
---
Conclusion
A baby swing acts like an extra set of hands for you. You cannot assume the benefits of the best rated baby swing until you own a one. Baby swings come with different features and sway directions like cradle motion, head to toe swing and some have a vibration feature for soothing the baby. You can buy any kind of swing for your newborn or infant but knowing your little one before purchasing a baby swing is the best option for you. Because different babies like different ways of soothing. Some like white noise, some like entertaining tunes and many of them does not like any sound rather they feel relaxed with a vibration mode. So before investing in baby swing put your baby's choice on the top.
Safety is most important so choose a safe swing having a harness with at least 5 attaching points so that your baby remains secure. You can choose from different types of swings and decide about the top baby swing for you to take home. There are portable swings which are light in weight and full size swings which are heavier and their portability is difficult.
This guide has provided a considerable knowledge about baby swings and how you can get the best rated baby swing while keeping all important features in your mind. If you have read this guide, you must be feeling like an expert of baby swings.
Click here to read more infomation about Fisher Price Rainforest Bouncer and Bright Starts Swing